Second major problem type
In unsupervised learning, we get unlabeled data

Just told - here is a data set, can you structure it

One way of doing this would be to cluster data into to groups

This is a clustering algorithm
Clustering algorithm
Example of clustering algorithm

Google news

Groups news stories into cohesive groups

Used in any other problems as well

Genomics
Microarray data

Have a group of individuals
On each measure expression of a gene 
Run algorithm to cluster individuals into types of people


Organize computer clusters

Identify potential weak spots or distribute workload effectively

Social network analysis
Astronomical data analysis

Algorithms give amazing results
Basically

Can you automatically generate structure
Because we don't give it the answer, it's unsupervised learning
Cocktail party algorithm
Cocktail party problem

Lots of overlapping voices - hard to hear what everyone is saying

Two people talking
Microphones at different distances from speakers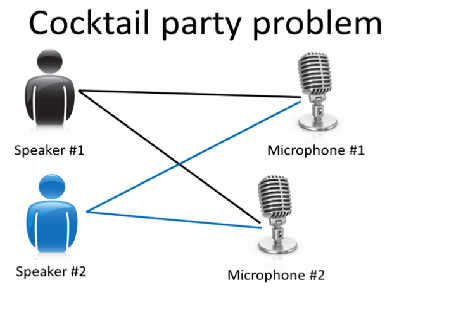 Record sightly different versions of the conversation depending on where your microphone is

But overlapping none the less

Have recordings of the conversation from each microphone

Give them to a cocktail party algorithm
Algorithm processes audio recordings

Determines there are two audio sources
Separates out the two sources

Is this a very complicated problem

Algorithm can be done with one line of code!
[W,s,v] = svd((repmat(sum(x.*x,1), size(x,1),1).*x)*x');

Not easy to identify
But, programs can be short!
Using octave (or MATLAB) for examples

Often prototype algorithms in octave/MATLAB to test as it's very fast
Only when you show it works migrate it to C++
Gives a much faster agile development

Understanding this algorithm

svd - linear algebra routine which is built into octave

In C++ this would be very complicated!

Shown that using MATLAB to prototype is a really good way to do this
Linear Regression
Housing price data example used earlier

Supervised learning regression problem

What do we start with?

Training set (this is your data set)
Notation (used throughout the course)

m = number of training examples
x's = input variables / features
y's = output variable "target" variables

(x,y) - single training example

(x

i

, y

j

) 

- specific example (ith training example)


i is an index to training set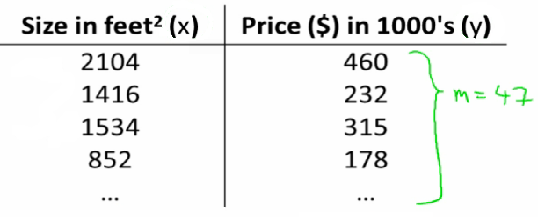 With our training set defined - how do we used it?

Take training set
Pass into a learning algorithm 
Algorithm outputs a function (denoted h ) (h = hypothesis)

This function takes an input (e.g. size of new house)
Tries to output the estimated value of Y

How do we represent hypothesis h ?

What does this mean?

This kind of function is a linear regression with one variable

Also called

univariate linear regression
So in summary

A hypothesis takes in some variable
Uses parameters determined by a learning system
Outputs a prediction based on that input
Linear regression - implementation (cost function)


And we want to minimize this cost function

Our cost function is (because of the summartion term) inherently looking at ALL the data in the training set at any time

So to recap

Hypothesis - is like your prediction machine, throw in an x value, get a putative y value

Cost - is a way to, using your training data, determine values for your 

θ 

values which make the hypothesis as accurate as possible


This cost function is also called the squared error cost function

This cost function is reasonable choice for most regression functions
Probably most commonly used function

In case J(

θ

0,

θ

1) is a bit abstract, going into what it does, why it works and how we use it in the coming sections
Cost function - a deeper look
Lets consider some intuition about the cost function and why we want to use it

The cost function determines parameters
The value associated with the parameters determines how your hypothesis behaves, with different values generate different 

Simplified hypothesis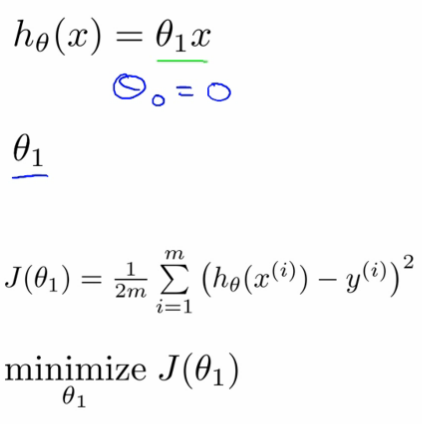 Cost function and goal here are very similar to when we have 

θ

0, but with a simpler parameter

Simplified hypothesis makes visualizing cost function J() a bit easier
So hypothesis pass through 0,0
Two key functins we want to understand 

 

h

θ(x)

J(

θ

1)
So for example

Plot
If we compute a range of values plot

J(

θ

1) vs 

θ

1 we get a polynomial (looks like a quadratic)


The optimization objective for the learning algorithm is find the value of 

θ

1 which minimizes J(

θ

1)

So, here 

θ

1 = 1 is the best value for 

θ

1
A deeper insight into the cost function - simplified cost function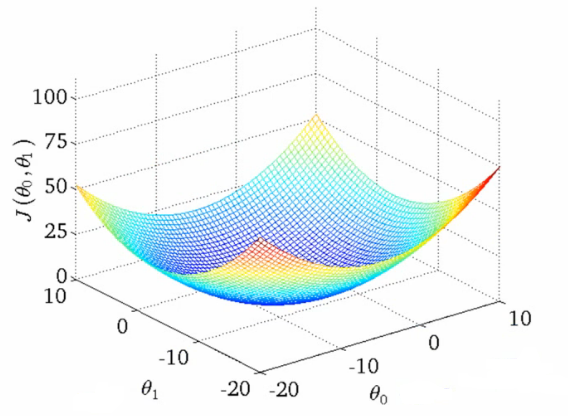 We can see that the height (y) indicates the value of the cost function, so find where y is at a minimum


Instead of a surface plot we can use a contour figures/plots